Lillig History
John Martin LILLIG was born in Bavaria, Germany in 1838. The information was that he was born in Munich. We do not have any information about the ship he was on with his mother or where his port of arrival was in America. They spent one year in an unknown place and settled in Dubuque, Iowa by 1852. John was 14 years old. He and his wife, AMELIA LIZETTE (or Lizetta) SIEGRIST, would be considered "pioneers" of Dubuque by the time they were older. He was very active in civic affairs and closely resembled Ulysses S. Grant but he rather resented being mistaken for Grant as John considered him a "reprobate".
There are bits and pieces about my LILLIG family and about this surname alone, there is not much. John Martin LILLIG came to America (1851 ?) with his mother who MAY have had the forename of MARGARE(T)TA or MARGARETHA. We do know she married into the HOERNER family and had 4 other children: JOHANNA, GEORGE, LIZETTE, and CHARLES (or CARL ?). Great grandfather John was the mainstay for the Hoerner family and was revered as more than a half brother. This HOERNER MAY have been GEORGE. I am still searching for this part of the family.

On October 4, 1866 at the German Presbyterian Church, John married, Amelia. This wedding was witnessed by an ANNA D. LILLIG. This person could have been either and Aunt, a sister, or a sister-in-law as there were other LILLIGs in Iowa at the time.


"Marriage License" for John Martin Lillig and Amelia Lizette SIEGRIST
John was an Alderman in Dubuque, Iowa for 4 terms. His biography is in the book: THE HISTORY OF DUBUQUE COUNTY, IOWA pages 838-839. (http://members.tripod.com/~Doreen_3) It reads as follows:
"JOHN M. LILLIG, foreman of Ingraham, Kennedy and Day's lumber yard; was born in Bavaria, Germany, October 15, 1838; he came to the United States in 1851 and came to Iowa and settled in Dubuque in 1852; he grew up and learned the trade of carpenter and joiner and worked at that business; he has held his present position of foreman for the past twelve year; he was elected City Alderman and has held that position for the past four years; he belongs to Harmony Lodge, I.O.O.F. and to the Encampnet and also to the A.O.U.W. He married Miss Amelia L. Sieggirst [sic], a native of Switzerland; they have six children-Martha, John, Fred, George, Ada, Alexander."

Amelia Lizette (or Lizetta) Siegrist was born in Eglisau, Switzerland and came to the U.S. at age eleven to join her father. Her name was changed from A. Elizabeth SIGRIST to what she was known as in America. There has been given no reason as to why this change occurred just that it did. She is from the very famous, renown SIGRIST family of Rafz, Switzerland. Her parents, DAVID SIGRIST and ANNA LANG, certainly "had to get married". The information from actual birth records state she was born on 11 September 1842 but her parents, as written in actual records, married in February of 1842. Do the math. She was NOT born in November as had been "understood" in the family long ago.

Amelia's father, David, was a "saddle maker", "harness maker", and a man who worked with leather. He was very good at his trade and at one time, he and Amelia (I am certain) lived on Dubuque's Center Street where he had a shop. She learned the "seamstress" trade from him and was well known for her work. As an adult, she was closely involved with the Third Presbyterian Church and numerous patriotic and social clubs and lodges. In fact, she was a charter member of many such organizations in Dubuque. She often road in "white-haired" splendor in an open car in almost all the parades in Dubuque. She enjoyed relating tales of Switzerland and loved in particular Edelweiss. She produced quantities of crocheting, knitting and quilts and had an intense pride and taste for grandeur. There was always a table cloth and napkins rings ready for family or friends. She dressed mostly in pastels or pale grays to offset her white hair.

In the 1880 census, John, Amelia and the children lived at 141 Lake Street in Dubuque. They then lived on Garfield across the street from the lumber yard in which John worked.

The 3 other children of John and Amelia, Emil, Alberta, and Nellie died in infancy. Those that lived had very interesting lives actually. Martha, their oldest, married LEWIS BARKER in 1887. He was the son of Lewis Barker and Caroline SQUIRES and was born in Chicago. Lewis invented the RAILROAD MAIL-CRANE in 1911 and was a locomotive engineer.

Martha was a petite, voluble person and later in life was apparently quite affected (by what is unknown). She used to wear Pince Nez and was considered quite "close" with money. Lewis was very mannerly and carefully attired. His invention brought in a sizable earnings for many years as the crane was in use all across the nation. It's patent model is now housed in the Museum in Dubuque. In Clinton, Iowa, where they lived, he was in insurance and real estate.

Martha and Lewis' daughter, Olive, was born in 1889 in Clinton, Iowa. She attended Smith College but graduated from State College of Iowa with a B.A. in music in 1931. She also had a Masters degree from Columbia University in New York in 1932. She majored in music and had a "lovely voice". Olive taught music and voice her entire career. Early on, she was in Laurel, Mississippi as music supervisor and then she taught in Morrison, Illinois. She was at the University of Northern Iowa in 1926 until she retired in 1957. She died at the Allen Convalescent Home in Waterloo, Iowa in 1966. She was widely known as a soloist, teacher and director and was an "Emeritus" member of the Music Department at UNI. Her interest in the financial welfare of students provided the funds for the BARKER-LILLIG Scholarship, the Iowa Music Teachers Association piano scholarship, and the Sigma Alpha Iota Performance Award.

The following 4 pictures are scans of the marriage registration of Martha and Lewis in Dubuque.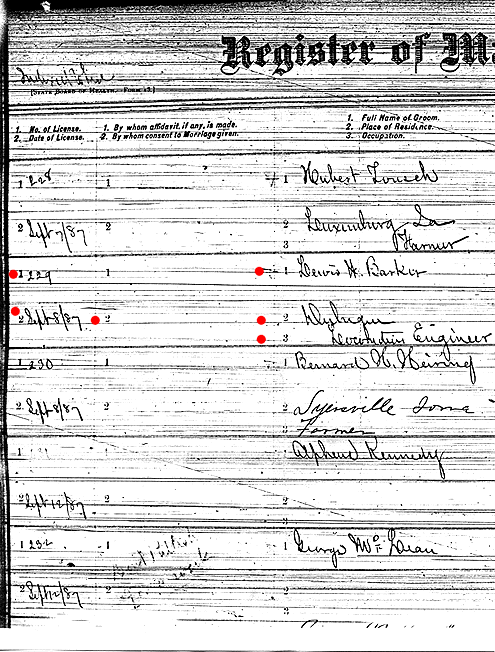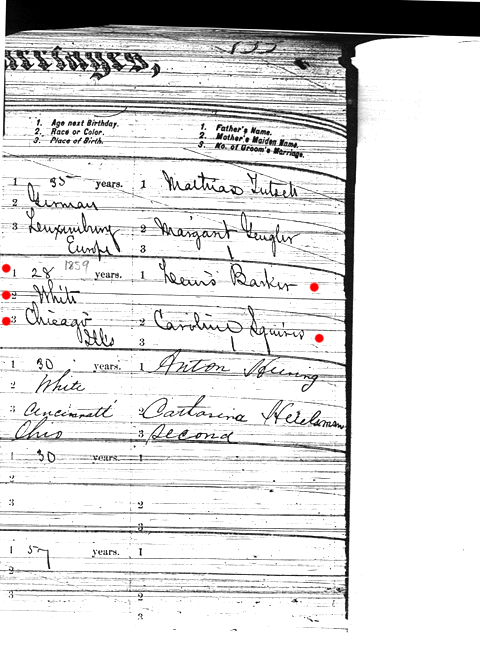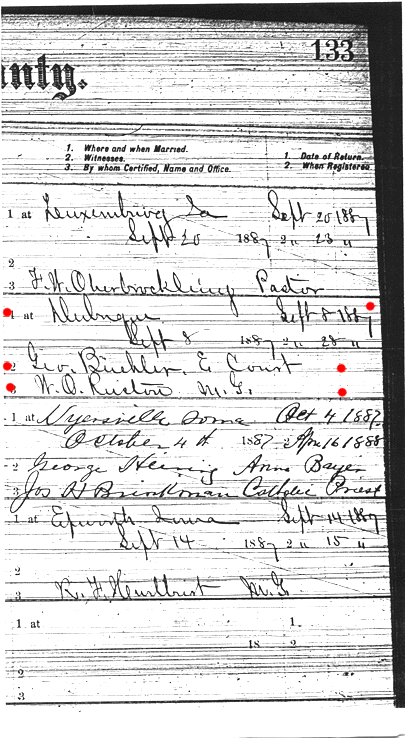 John Edward LILLIG married PHILOMENA RHOMBERG in 1904. He was already 36 years old by that time and "Minnie" was almost 10 years his junior. She was a daughter of one of the most famous families in Dubuque. The RHOMBERGS owned breweries and furrier stores. All of them were from Dornbirn, Austria. Her parents were ANDREW RHOMBERG and ANNA (unknown). John was in the lumber business in various capacities most of his life. He was an avid reader, quite a "gentleman", and a serious person on whom all could rely. He had an excellent ear for and loved music. He was also an avid Barbershopper with a good bass voice. John was considered nice looking but rather short. He loved to "experience" things.

He spent 2 summers in the vicinity of Baudette, Minnesota where he supervised the cutting of timber on his company owned land. He had a cabin built so that his wife and small daughter (Thelma) could be with him. In 1910, the entire area was destroyed by a forest fire and the family was reported "lost". However, they had run to the Rainy River and stood in it while the fire jumped the river. Old pictures of the area have been given to the Lake of the Woods Historical Society in Baudette and to the Fernie, British Columbia Historical Society. Here are the photos of the marriage of John and Minnie.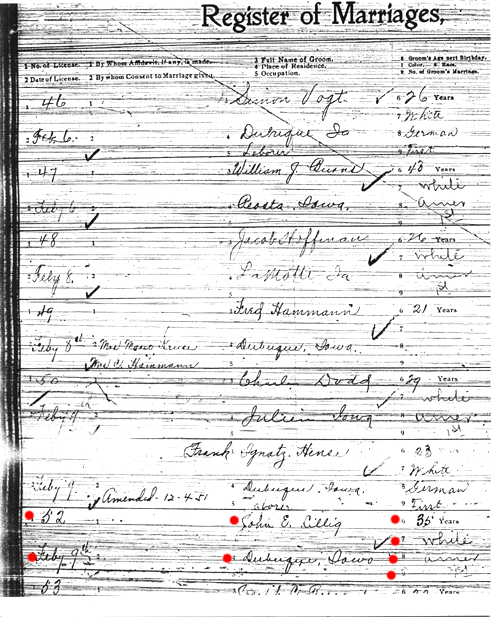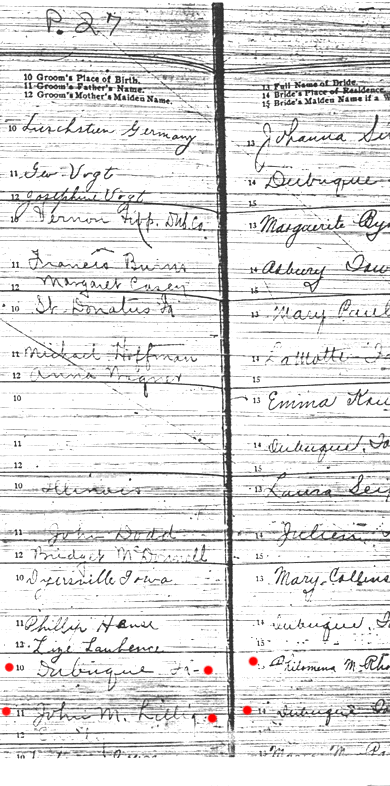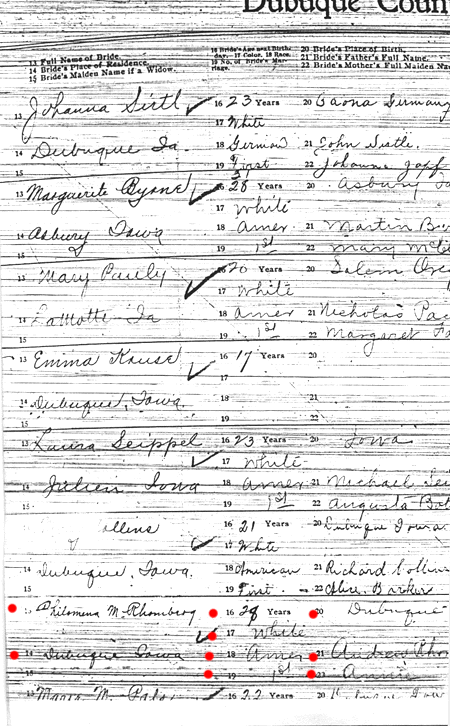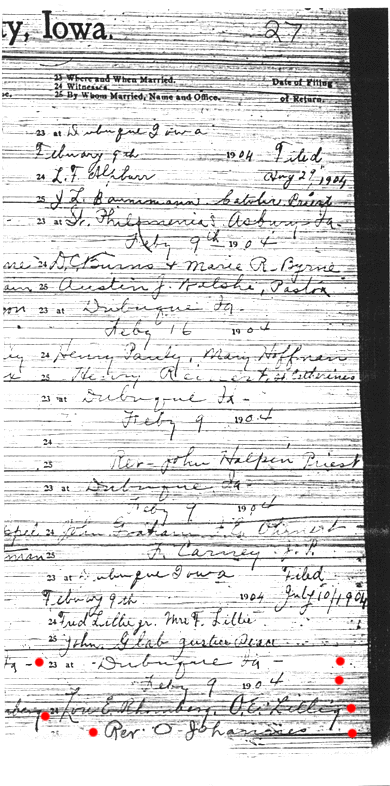 Frederick William LILLIG was an interesting character. Later in life he became "very fond of western dress". This may have been due to is involvement in the Spanish-American War or due to his working in the "west" for the railroads though he worked in the south also. He was a very large man and a great teller of tales. In the war, he was assigned as a private to "A" company of the 49th Regiment of the Iowa Volunteer Infantry. He had intermittent malaria, an abscess on his arm and a "bad tooth". The doctors felt the malaria and abscess were problems due to the war, but not the tooth. He did fight in Havana, Cuba and was officially "out" of the war at Savannah, Georgia. Fred married ELLA HUDSON and had one daughter, MARGARET, but he and Ella divorced and Margaret went to California where she died in 1999. Fred died in either Independence or Waterloo, Iowa in 1949. He was supposedly effected by the war later in life.

The fourth child of John and Amelia was my grandfather, GEORGE ALBERT LILLIG. What I remember of him was very white hair and that he was very tall. Most considered him to have the "sunniest" disposition of the family members. He spent most of his adult life in Chicago and the vicinity engaged in plumbing and related work. His family nickname was "Gary" derived somehow from the small town of Garyowen, near Dubuque. I do not know the significance of this town or name to my grandfather. Grandfather Lillig was "nice looking" and his hair later earned him another nickname,
"Snowwhite".

George Albert Lillig is in the 1900 census for Illinois living with a man whose name was JAMES D. VANCE. This was in Chicago at 1584 Park Ave. In 1905, he married HARRIETT ANITA LYNCH. She had always been known as "Hattie" until a school principal decided her name was Harriett and called by that name. Thereafter, she was only called Harriett.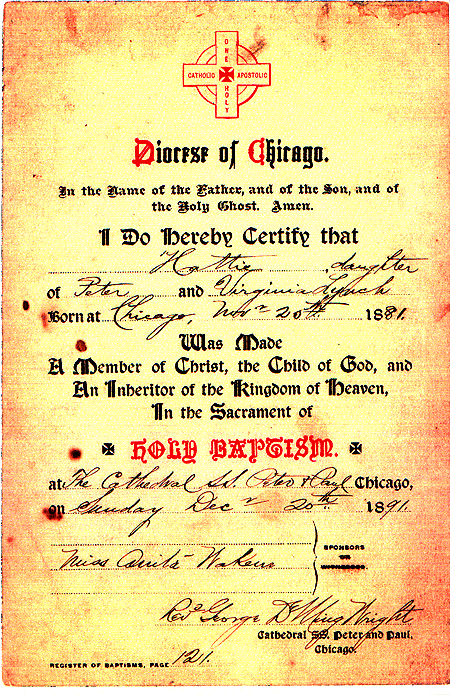 Baptism of HARRIETT ANITA LYNCH
Until December 1923, they lived in or around the Garfield Park area of Chicago. George had a plumbing business (some times with a partner) and owned a building on the 5300 block of Laramie Avenue in Chicago. The building housed a doctor or a dentist's office on the 2nd floor and an A & P Grocery Store on the first floor. The family lived at 123 Laramie in Chicago.

Grandpa Lillig was the plumber and "heat" expert for LaGrange Township High School in the late 1920s until 1934. He had built a house with 12 rooms on Claussen in Western Springs. While Aunt Virginia went to Grand Avenue School, Ralph went to Western Springs Elementary School. Harriett had already been the "founder" of several PTAs and "mother's clubs" in Chicago. One was at Spencer School and then in Western Springs. In the 1930s, Grandma Lillig worked for the BLUE STORE in Chicago. She must have taken the train to get there but she also worked at LTHS cafeteria when Grandpa Lillig was the plumber. They eventually lived on Kensington Avenue in LaGrange and then in Brookfield, Illinois.

George and Harriett had 4 children, all but one born at Garfield Park Hospital. The first was a daughter they named HARRIETT VIRGINIA LILLIG. She died of ptomaine poisoning after only 6 days of life. Within a year, they had GEORGE MARTIN LILLIG. He was very tall, and thin, and looked remarkably like his father. He was quite a character and did not finish high school. He was always late for work at Barrett & Cravens on the south side of Chicago. He also did not seem to like bills so he threw them out all the time.

Uncle George married 3 times. His first marriage to RUTH COLLETT produced his only son. After their divorce, however, she either had his name changed or made him go by another name. George M. then married ANN WEID and had 2 daughters. He finally married a woman who already had a daughter by another husband.

RALPH EUGENE LILLIG was the athlete in the family. He was one of the best "hurdlers" in the State of Illinois in the late 1920s and he helped his team, from LTHS, go to the State Meet in 1930. He had a scholarship to Michigan State University but only stayed one year. He went back to LaGrange and worked as a salesman for several companies. By 1942, he was in the Army stationed in Detroit, Michigan.

Ralph met a woman named JESSICA (unknown) while stationed there. Her father was one of the officer's who got my father into the officer's training school in Florida. Jessica was a "model" for the Packard Motor Company and they married some time that year. The marriage lasted all of 3 weeks, however. She was quite unstable and up and left him. She went back to PA for all he knew but after his divorce he married HELEN PATRICIA CUMMINGS, again in Michigan.

They had one son and dad was off to serve in WWII in New Guinea. By the end of the war, this marriage was over also and for extenuating circumstances. By 1946, Ralph had met MARY LLEWELLA MATTHEWS. Actually this was "met again" though she would never admit to knowing him in high school. She was 4 years older than he and they were never in the same "crowd".

Mary was a singer and drama person. Dad knew her, she did not know him. They met at an officer's club dance at which my mother was singing. He asked her to dance and the rest is "history". .

Marriage License for Ralph E. Lillig and Mary Matthews

Ralph and Mary had 4 children within 45 months beginning with the first one in 1947 and the last one in 1950. There were NO disposable diapers then and the smell of ammonia must have been overwhelming! Our own, personal histories are fascinating too but that is for another time and place.

Mom died in 1973 and dad re-married for the 4th time in 1976. Dad continued to be the "salesman" even up to a couple of months before he died. He was active in the VFW in Marshall, Missouri to where he and Mary Jane had moved.

The last child of George and Harriett is HARRIETT VIRGINIA LILLIG. She was born in Oak Park and grew up in LaGrange and Western Springs, Illinois. What I remember most about my Aunt is that she worked for the Illinois Telephone Company forever. One day, a "good looking" guy followed her home. Seems he had been working as a taxi driver, at the country club, and a gas station to make ends meet after he drove to the Chicago World's Fair from NY and had all his possessions stolen. A man had taken him to LaGrange and he saw my Aunt and wanted to go out with her. Stalking was not an issue back then. They eventually married and had 3 children, one of whom died in 1990.


PREVIOUS PAGE

NEXT PAGE

HOME PAGE

© Susan J. Brien, Ed.D.
The information on this web page is NOT to be copied by genealogy companies or persons for sale. It is FREE, however, for personal use, especially for my family.